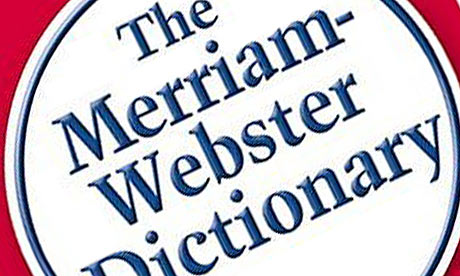 A southern California elementary school had pulled all copies of Merriam-Webster's Collegiate Dictionary after a parent complained about a child stumbling across definitions for "oral sex."
Now
the Menifee Union School District is forming a committee to review whether dictionaries containing the definitions for sexual terms should be permanently banned from the district's classrooms, a district official said Friday.
Free-speech and anti-censorship experts called the ban an overreaction.

"If a public school were to remove every book because it contains one word deemed objectionable to some parent, then there would be no books at all in our public libraries," said Peter Scheer, executive director of the California First Amendment Coalition, of which The Press-Enterprise is a member. "I think common sense seems to be lacking in this school."

Whether banning a dictionary would actually violate free-speech laws is a complicated legal question, Scheer said. But the decision to remove the reference books "certainly offends free-speech principles and values that all public schools should hold dear," he said.
On Thursday and Friday last week, the State Board of Education took up these recommendations in a lengthy, heated debate. Some highlights of what the Republican-leaning board ended up deciding, and the debates that went on:

— On a 7-6 vote, the board decided to add "causes and key organizations and individuals of the conservative resurgence of the 1980s and 1990s, including Phyllis Schafly, the Contract with America, the Heritage Foundation, the Moral Majority, and the National Rifle Association" to the curriculum.

– The Republican majority voted against requiring Texas textbooks and teachers to cover the Democratic late senator Edward Kennedy, the first Hispanic Supreme Court Justice Sonia Sotomayor, and leading Hispanic civil rights groups such as LULAC and MALDEF. Secretary of State Hillary Clinton and Thurgood Marshall, the country's first African-American Supreme Court justice, will be taught.

– Republican Don McLeroy lost a battle to "remove hip-hop and insert country music in its place from a proposed set of examples of cultural movements." Republican Patricia Hardy said that while she disliked hip hop music, pretending it wasn't around was "crazy." "These people are multimillionaires, and believe me, there are not enough black people to buy that," she said. "There are white people buying this. It has had a profound effect." Country music was added as a separate measure.

– "McLeroy was successful with another of his noteworthy amendments: to include documents that supported Cold War-era Sen. Joseph McCarthy and his contention that the U.S. government was infiltrated with Communists in the 1950s."

– "Republican board member Cynthia Dunbar unsuccessfully tried to strike the names of Scopes monkey trial attorney Clarence Darrow and Pan-Africanist Marcus Garvey from the standards. Asked by another member about her opposition to Garvey, Dunbar explained, according to the Texas Tribune: "My concern is that he was born in Jamaica and was deported."

– The board "included a requirement for students in U.S. history classes to differentiate between legal and illegal immigration."

Unable to reach to reach complete agreement last week, the board unanimously decided to "suspend debate on the standards until March, when they will take up other social studies subjects such as government and geography."

This debate is important not only because it will dictate how the state's 4.7 million schoolchildren are taught social studies, but also because Texas "is one of the nation's biggest buyers of textbooks." Publishers are often "reluctant to produce different versions of the same material," and therefore create books in line with Texas' standards. "Publishers will do whatever it takes to get on the Texas list," one industry executive told the Washington Monthly.
The Dallas Morning News has the story about a banned children's author.
What do the authors of the children's book Brown Bear, Brown Bear, What Do You See? and a 2008 book called Ethical Marxism: The Categorical Imperative of Liberation have in common?

Both are named Bill Martin and, for now, neither is being added to Texas schoolbooks.

In its haste to sort out the state's social studies curriculum standards this month, the State Board of Education tossed children's author Martin, who died in 2004, from a proposal for the third-grade section. Board member Pat Hardy, R-Weatherford, who made the motion, cited books he had written for adults that contain "very strong critiques of capitalism and the American system."

Trouble is, the Bill Martin Jr. who wrote the Brown Bear series never wrote anything political, unless you count a book that taught kids how to say the Pledge of Allegiance, his friends said. The book on Marxism was written by Bill Martin, a philosophy professor at DePaul University in Chicago.
It seems that the problem is significant.
For some, however, the mix-up is an indicator of a larger problem with the way the elected board members have approached the update of state curriculum standards. [...]

The social studies standards update, which started last spring when groups of educators met to suggest revisions, has brought criticism from the right and the left about politicizing the process. As trustees worked their way through a draft this month, political ideas like imperialism, communism and free enterprise were at the heart of some of the changes.
When the issue of children's school books becomes political or religious, then free speech and civil rights certainly become victims.