(CNN) -- Kansas Gov. Kathleen Sebelius was sworn in Tuesday night as secretary of Health and Human Services.
She was sworn in after she was confirmed by the Senate in a 65-31 vote.

Two independents and nine Republicans joined the 54 Democrats voting for her confirmation; three senators didn't vote at all.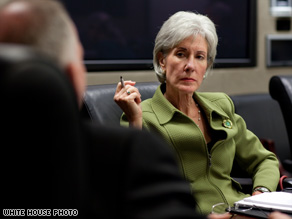 Kathleen Sebelius dives into discussing the swine flu at the White House after being sworn in.