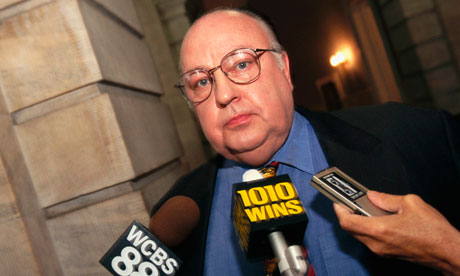 A very interesting and frightening perspective of Roger Ailes, "The Chairman" of Fox News exposes Ailes as a fear based, paranoid media mogul. Below is an excerpt from Roger Ailes and the rise of Fox News.
Even Rupert Murdoch is afraid of Roger Ailes, the paranoid boss of Fox News. But 'the Chairman' is using his power to make Americans more right wing, more ignorant and ever more terrified.

To watch even a day of Fox News – the anger, the bombast, the virulent paranoid streak, the unending appeals to white resentment, the reporting that is held to the same standard of evidence as a political campaign attack ad – is to see a refraction of its founder, one of the most skilled and fearsome operatives in the history of the Republican party. As a political consultant, Ailes repackaged Richard Nixon for television in 1968, papered over Ronald Reagan's budding Alzheimer's in 1984, shamelessly stoked racial fears to elect George Bush in 1988, and waged a secret campaign on behalf of Big Tobacco to derail healthcare reform in 1993. "He was the premier guy in the business," says former Reagan campaign manager Ed Rollins. "He was our Michelangelo."

In the fable Ailes tells about his own life, he made a clean break with his dirty political past long before 1996, when he joined forces with Murdoch to launch Fox News. "I quit politics," he has claimed, "because I hated it." But an examination of his career reveals that Ailes has used Fox News to pioneer a new form of political campaign – one that enables the Republican party to bypass skeptical reporters and wage an around-the-clock, partisan assault on public opinion. The network, at its core, is a giant sound stage created to mimic the look and feel of a news operation, cleverly camouflaging political propaganda as independent journalism.

The result is one of the most powerful political machines in American history. One that plays a leading role in defining Republican talking points and advancing the agenda of the far right. Fox News tilted the electoral balance to George W Bush in 2000, prematurely declaring him president in a move that prompted every other network to follow suit. It helped create the Tea Party, transforming it from the butt of late-night jokes into a nationwide insurgency capable of electing US senators. Fox News turbocharged the Republican takeover of the House last autumn, and even helped elect former Fox News host John Kasich as the union-busting governor of Ohio – with the help of $1.26m in campaign contributions from News Corp. And by incubating a host of potential Republican contenders on the Fox News payroll – including Sarah Palin, Mike Huckabee, Newt Gingrich and Rick Santorum – Ailes seems determined to add a fifth presidential notch to his belt in 2012. "Everything Roger wanted to do when he started out in politics, he's now doing 24/7 with his network," says a former News Corp executive. "It's come full circle."

The 71-year-old Ailes presents the classic figure of a cinematic villain: bald and obese, with dainty hands, Hitchcockian jowls and a lumbering gait. Friends describe him as loyal, generous and funny. But Ailes is also, by turns, a tyrant: "I only understand friendship or scorched earth," he has said. One former deputy pegs him as a cross between Don Rickles, the venomous comic, and Don Corleone. "What's fun for Roger is the destruction," says Dan Cooper, a key member of the team that founded Fox News. "When the light bulb goes on and he's got the trick to outmaneuver the enemy – that's his passion." Ailes is also deeply paranoid. Convinced that he has personally been targeted by al-Qaida for assassination, he surrounds himself with an aggressive security detail and is licensed to carry a concealed handgun.

The complete article can be found here.

Paranoia, fear, hate and greed make dangerous bedfellows.